Have you ever wondered what makes a successful design? Wonder no more! In this new series, I'll be dissecting designs on all fronts, from websites to emails to job ads. In this series kickoff, you'll get a deep look into the 2017 "Halo Top" giveaway email. I'll explain why it's so amazing and even give some advice on how it can serve as inspiration for your own emails. Let's get to dissecting!
View the full email with active GIFs, here!

Success #1: The Stylized Logo, Header & Subheader
It's great to have your logo front and center or left aligned, but it's even greater to integrate it into a newsletter header design. When one or more design elements intertwine, it makes your overall layout more successful, and the integration helps different elements feel more natural together. Halo Top takes it one step further by styling the subheader text with the word "yourself" flipped upside-down, which goes perfectly with the animated GIF header below. If that wasn't enough, they added an animated bar underneath the subheader text to call attention to it. And for consistency, they repeated the GIF bar throughout the email.
Success #2: The Fun Product GIF Header Image
Product GIFs are great, but don't cha wish your product GIFs were cool like Halo Top? This GIF is successful because it tells a story. It shows the pint of ice cream walking forward then slipping on a winning label. It perfectly ties together the product, the giveaway event and what people should be looking for all in one little animate image.
Hey @HaloTopCreamery, your amazing giveaway #email was dissected by our #GraphicDesign team: Click To Tweet

Success #3: Increased Hype
Right after you've watched the GIF, you're immediately brought to the giveaway text. Now, what makes this so enticing is instead of beginning the email campaign by stating they have 5 grand prizes to give away, they begin saying there's already a winner and that you only have 4 more chances to win. This increases hype and prompts the user to buy the product as soon as possible because the grand prizes have been limited – the tactic creates FOMO (fear of missing out). After the user gets hyped, entry instructions are listed with social icons so users can enter right away.
Why are @HaloTopCreamery's emails so #successful? @KyleJCDesign explains on @omahaywire!
Click To Tweet
Success #4: GIF Showing Proof of Winners
After feeling a sense of urgency, users are told the first winner's real story as PROOF it's possible to win. Halo Top adds a simple product GIF to the left so the email isn't too text heavy. Though it's small and simple, it's actually an important image that serves to show users where to find the seal and what it looks like when they purchase the product. It certainly packs a powerful punch!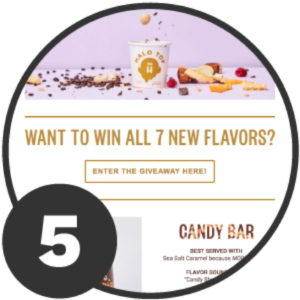 Success #5: CTA Placement + an Enticing Product GIF
By now, the user is overloaded with hype and excitement to get themselves entered. Halo Top cleverly placed the CTA for entering immediately under the story with a simple, but effective headline about winning ALL 7 new flavors. This CTA placement is perfect because it's closer to the top of the email. The user has enough information to want to click without having to scroll to the bottom and getting tired or bored. Additionally, the email flows to the next section that explains those 7 new flavors. Finally, to help seal the deal on user excitement, they placed another enticing product GIF above the CTA text showing the delicious ingredients they put into their products.
Success #6: Creative Product Pairings
You could simply list out your products, but Halo Top has created a zig-zag minimal grid layout to highlight the flavor and descriptions of the products. The layout is clean, effective and colorful. To kick it up a notch, Halo Top wrote out creative descriptions that give the flavors a unique personality to resonate with their target audience. For a final touch, they masked out individual background textures for the title text of each flavor.
Success #7: Stylized CTA Text & Custom Social Icons
Once the user has scrolled their way to the bottom, they're prompted with a button to check out where they can find the product. That's genius. Not only does the user want free stuff by entering in the giveaway, they're now probably hyped enough to go buy more of this product in person. Giving them the directions to the local stores that sell it is absolutely gold, in my opinion. And of course Halo Top does it in style by creating a clean text graphic with alternating regular and bold weights, and a bright pink button to call attention. My favorite part about this end CTA? The social icons. While it's crucial to have these in your emails, Halo Top customized the icons with a simple shape and color that represents their product. This makes the icons more inviting and appealing to click on.
Overall Rating: A+
I've got to hand it to Halo Top. Their hard work and creative planning paid off in making their email a success. From the fun, storytelling product GIFs to the creative product descriptions that play to their audience, this email design is an easy A+. It's well thought out both in design and content, and the email has a natural flow that helps the user scroll through without getting fatigued.
Sources
http://mailchi.mp/halotop/7-new-pints-move-into-the-halo-top-neighborhood?e=7dc234b936
https://blog.hubspot.com/blog/tabid/6307/bid/34247/dissecting-the-anatomy-of-a-five-star-email-5-free-templates.aspx